President's Message
---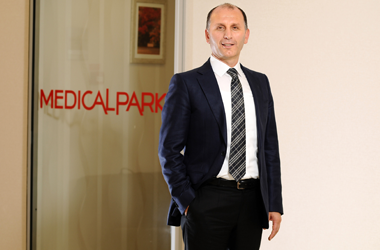 We started out in Turkish Healthcare sector with the motto "healthcare for all" in 1993. We are advancing forward confidently in a journey, we set out with principle "leading a healthy life and equal access to healthcare services are primary right for everyone". "Carrying our hospital business approach compatible with international quality standards to all cities of Turkey in fully and well equipped facilities with strict concordance to patient rights and no sacrifice from deontological principles" is the core of managerial philosophy of Medical Park Group of Hospitals. Healthcare services are offered at Medical Park Group of Hospitals by well qualified and experienced doctors and physicians, experienced healthcare practitioners at healthcare facilities, which are fully equipped with state-of-the-art medical devices.
NEW LIVES ARISING OUT OF TRANSPLANTATIONS

We are continuing our best efforts to make our patients continuously smile. We are extremely proud to provide citizens of this country with organ transplantation, bone marrow transplantation and oncology services, which are of vital importance for Turkey. Hundreds of patient feel the happiness of starting a new life in organ transplantation units located in Antalya and Istanbul. Hundreds of kids and adults catch a chance to hold on to the life in Adult and Pediatric Bone Marrow Transplantation units located in Antalya, Samsun, İzmir and Bahçelievler/Istanbul and Göztepe/Istanbul.
FOR A HEALTHY AND ATHLETIC GENERATION…
Being a Group of Hospitals which serve all around Turkey with 22 hospitals and more than 11 thousand employees, we also aim to make contribution to raising healthy generations. We all know that sports is the basis of a healthy population! We, therefore, play a part in any and all initiatives related with sports in order to raise a healthy and athletic generation.
We support many sportive activities, irrespective of club and branch. Our doors are wide open to everybody who set heart on sports. We help not only the major club of Turkey, but also a sports club in Anatolia. Since Medical Park Group of Hospitals adopted the principle "let healthy and athletic generations raise", we support not only major sport clubs of Turkey, but also many sport branches in Anatolia.
A NEW WINDOW OPENING TO UNIVERSITIES
At current stage of Turkish healthcare sector, hospitals are completely obliged to affiliate with universities. Qualified staff source is the major problem this rapidly growing and developing sector faces. Therefore, university and affiliation open new horizons to the sector. Medical Park Group of Hospitals, possessing 21 hospitals and one medical center all around Turkey, make firm steps based on the belief that affiliation will make positive contributions to both hospitals and universities.
First affiliation is concluded between Medical Park İzmir Hospital and İzmir University, and next, similar affiliations are set between Medical Park Göztepe Hospital Complext and School of Medicine, Bahçeşehir University and between Medical Park Bahçelievler Hospital and School of Medicine, Kemerburgaz University. Medical Park Group of Hospitals aims searching for affiliation opportunities for other hospitals.
Muharrem Usta
CEO, Medical Park Group of Hospitals